Vocation
QPM Spa Expert belongs to the Wellness range. All of the applications contained in this range are intended for professionals in a variety of sectors. The applications yield information on the levels and consequences of oxidative stress on the individual.

The QPM Spa Expert results enable the professional to know, in less than one minute, the state of physical, emotional and mental form of their client, and to identify the treatments most appropriate to their current condition. QPM Spa Expert is a response to the new market needs oriented towards the search for greater harmony between body and mind.
Improve the efficiency of your welcome
Convey a different image of your SPA
Spark your clients' interest
Win your clients' trust
Develop a place for dialogue, exchange and communication
Lend meaning to the treatment practice and develop the desire to come back for more.
QPM Spa Expert constitutes a veritable tool to pilot your Spa's business, and an additional assurance your personnel.



Users concerned
Spas
Water therapy centers
Any venue focusing primarily on personal Wellness
Contents
QPM Spa Expert XL comprises 78 criteria (57 for version L) organized into two main chapters :
Current condition :

Level of form (physical, mental and emotional
Stress level
Anxiety
Recommendation regarding the physical areas
Current treatments :
Priority treatment types
Wet treatment in a cubicle
Wet treatment, in the pool
Dry treatment
Hot treatment
Physical activities
Relaxation

Version L comprises only the current treatments.



Example of measurement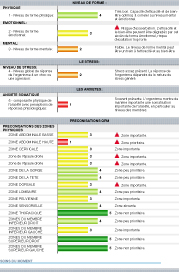 Liens partenaires :

Présentation Spa Expert: